Indian food is not just limited to main course or appetisers. The accompaniments to our meals are equally important. Be it a crispy papad or a spicy pickle, we love to add some extra condiments to every meal. Doesn't your bowl of dal-chawal taste even more delicious with a dash of chutney in it? When it comes to condiments and dips, garlic has proven to be one of the most versatile ingredients. The incredible aroma and strong burst of flavour pair well with practically any dip you add it to. This is why we have collated a list of some of the most amazing garlic-based dips that you can use to amp up your meal. Whether you are enjoying some desi snacks, indo-chinese munchies or chips and poppers, these garlicky delights will make your dish a memorable one.
Here Are 7 Yummy Garlic Dips That Will Add A Burst Of Flavour To Your Meal:
1. Chilli Garlic Dip 
Chilli garlic dip has made its way to our hearts courtesy of its most-loved pairing – momos! What's a plate of piping hot momos without some chilli garlic dip beside it? You can use this recipe as a condiment or even add it to spice up your dishes. Click here for the full recipe for chilli garlic dip.
2. Garlic And Herb Cream Cheese 
The goodness of garlic combined with the wholesome texture of cream cheese. The addition of herbs further makes this yummy dip a wonderful treat that you can enjoy with French fries, wedges, chips or even chicken nuggets. Click here for the full recipe for garlic and herb cream cheese.
Also Read: How To Braid Garlic: An Easy Way To Preserve Garlic For Months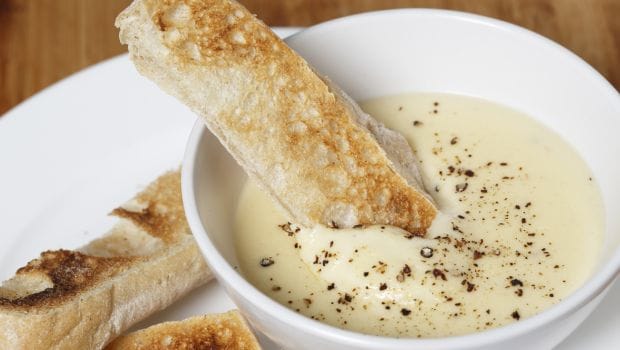 3. Tawa Lehsun Mirch Chutney
We have known how to use tawa to make flatbreads such as paratha and roti. How about using the iron griddle to make a spicy chutney? This fiery garlic chutney has whole green chutneys to make it fire up your palate and amp up your meal. Find the full recipe of the mirch lehsun chutney here.
4. Garlic Hummus
Creamy and subtle, hummus has made its way to our palate like no other dip. How about adding an extra twist of garlic to your usual hummus? Just check out the Hummus beiruti recipe here and double up the quantity of garlic mentioned in the recipe. As they say, there's no such thing as too much garlic.
Also Read: Burnt Garlic Fried Rice: 5 Tempting Versions Of The Classic Recipe That You Can Try This Weekend
5. Garlic Tahini Sauce
After you've tried hummus, we suggest opting for this garlicky version of tahini sauce. Made with roasted white sesame seeds and chopped garlic, this is a dip which will thoroughly surprise you. Pair it with your favourite Mediterranean appetiser and you're good to go. Find the full recipe for garlic tahini sauce here.
6. Garlic Mayonnaise
Mayonnaise is one of our favourite dips to amp up any meal. Its creamy and slightly sweet note can go perfectly with a number of dishes. This garlic mayonnaise recipe takes the flavours of garlic and pairs it with the luscious goodness of mayonnaise dip. Click here for the full recipe for garlic mayonnaise.
7. Rajasthani Lehsun ki Chutney 
The last but not the least, this classic garlic dip hailing from Rajasthan is our all-time favourite. The tempering of spices generously smattered on garlic cloves will make for a delicious addition to any meal. Find the full recipe for Rajasthani lehsun chutney here.
Which garlic-based dip will you be making first? Happy feasting!